Brought to you by the Albuquerque Bernalillo County Water Authority.
The Water Smart Academy is created for landscape professionals looking to broaden their understanding of landscape management and irrigation systems. The free classes offer the latest in landscape irrigation best management practices (BMPs) to assure healthy, sustainable, and functional landscapes while avoiding water waste.
WATER SMART ACADEMY CLASSES ARE NOW FORMING FOR THE WINTER!
Lunch provided! Classes are limited to 20 participants.
CEU's for NMASLA and NM CID licenses
Location: Albuquerque Open Space 6500 Coors Blvd NW, Albuquerque, NM, 87120
YOU MUST REGISTER IN ADVANCE FOR ALL CLASSES!
Get Certified! Choose any of these sections to get your team certified as a Water Smart Contractor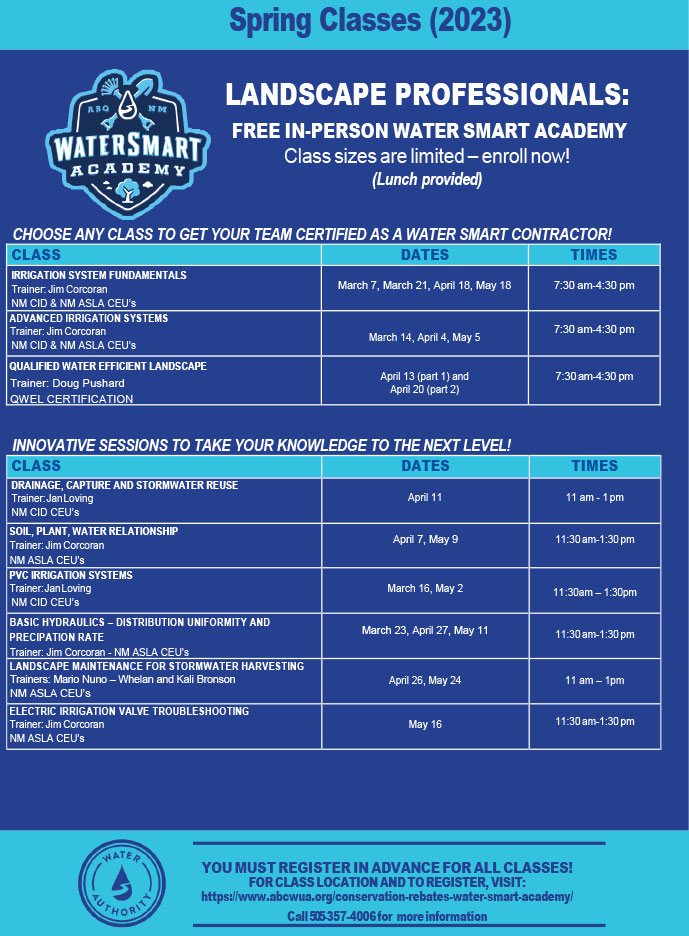 Irrigation System Fundamentals: system design, installation, and maintenance
Trainer: Jim Corcoran
This class provides an update on current landscaping regulations, standards, and codes. The class covers fundamental sprinkler and drip irrigation design and installation techniques; soil properties; design considerations; plant species id; the fundamentals of water smart landscapes; and key elements of the Water Authority's water waste ordinance.
Advanced irrigation system design, installation, and maintenance techniques
Trainer: Jim Corcoran
Gain advanced knowledge on the sprinkler and drip irrigation systems; two-wire systems; backflow preventer applications; piping options; drip system components; soil chemical interactions; and plant selection criteria. The class also covers water-smart maintenance practices including how to water efficiently using ET, precipitation rates, infiltration rates, and how to reduce water run-off; advanced irrigation system troubleshooting.
Qualified Water Efficient Landscape (QWEL) certification https://www.qwel.net/
Trainer: Doug Pushard (TWO DAY SERIES)
The Qualified Water Efficient Landscaper (QWEL) professional certification provides landscape professionals with over 20 hours of education on local water supply, sustainable landscaping, soils, landscape water budgets, irrigation system components and maintenance, and irrigation system audits, and scheduling and controller programming.
---
Innovative Classes! Take your knowledge to the next level
PVC Irrigation Systems – troubleshooting and adapting to low flow water use
Trainer: Jan Loving
Installing PVC Pipe, Fittings and Valves is like painting, everyone thinks they can do it.  After all, how hard could it be?  Like most things, there is a right way to solvent weld, install threaded connections, and repair PVC for trouble-free, long-lasting irrigation systems.
Electric Irrigation Valve Troubleshooting
Trainer: Jim Corcoran
Students will gain a comprehensive understanding of successful troubleshooting techniques used in identifying and solving electric irrigation valve problems. The class covers internal and external valve components, major valve types as well as how to use volt, ohm, and amp meters. Emphasis will be on how to apply troubleshooting techniques in the field.
Free Water – effective drainage, capture and reuse of
Trainer: Jan Loving
Smart watering is more than installing and maintaining an irrigation system.   Drainage, which involves harvesting, moving, and using stormwater is an integral part of landscape and irrigation management.  In this class, we will discuss methods to prevent or remediate damage due to stormwater as well as the beneficial use of that same water.
Basic Hydraulics: Distribution Uniformity & Precipitation Rate
Trainer: Jim Corcoran
Static and dynamic conditions and basic design considerations and how do hydraulics affect DU & PR and ultimately how do these concepts relate to and affect turfgrass health.  We will identify factors such as source GPM, pressure losses/gains in psi, the speed limit of water in PVC pipes, future expansion, and water windows that must be considered in order to provide efficient overhead irrigation. Also, we'll look at options to modify "inherit" inefficient irrigation systems.
Basic Soil-Plant-Water Relationships
Trainer: Jim Corcoran
Topics include soil moisture content elements, available water-holding capacity, allowable depletion, soil moisture depletion, soil water potential, soil texture, caliche, water infiltration rates, pore space, and soil compaction. Lots of popular buzzwords, but what do they mean and how do we actually apply them to our work in the field.  To be an excellent irrigation system installer and/or maintainer understanding how these variables relate to and affect each other is key.
Landscape Maintenance for Stormwater Harvesting features
Trainer: Mario Nuño-Whelan
Learn the proper methods to maintain permeable pavers/pavement/concrete; stormwater conveyance structures such as stormwater bump outs, bioswales, trenches, and basins; plant maintenance in the different inundation zones; and mulch maintenance. Resources produced by the Arid LID Coalition such as the Maintenance Manual which includes maintenance checklists and frequency, as well as the video series that illustrates how to properly maintain these features.
Please fill out the form fields below to register for a class.
Registrations must be received by 10:00 am the day before your class in order to secure class materials and food orders.
MEET THE ACADEMY TRAINERS:
Jim Corcoran: A New Mexico native with 40 years of grounds management experience at UNM, APS, Sandia Laboratories, and as a commercial landscape maintenance contractor, plus 28 years of experience in landscape and irrigation training. He holds a Bachelor of Science degree in plant science and holds an MS6 Irrigation License. He is a Certified Backflow Prevention Technician and 3A & 3B Pest Management Consultant. Previously certified by the Irrigation Association for Landscape Irrigation Water Audits, he is also past President of the New Mexico Irrigation Association.
Jan Loving: President of Loving & Associates, a manufacturer's representative for irrigation, plumbing, and industrial products in New Mexico, El Paso, and southwest Colorado and a training instructor for stormwater drainage and PVC pipe valve and fittings for more than 30 years for contractors, architects, wholesalers, and municipalities.    BA from the University of Texas at El Paso.
Doug Pushard: Doug holds a Bachelor's in Marketing and an MBA with a concentration in finance and computer science. He is a lifetime American Rainwater Catchment System Association (ARCSA) member and an Accredited Professional and an ex-Board member of ARCSA. He is a prolific writer and appeared in The New York Times, Water Efficiency Magazine, Home Power, Taos News, and Water News among others, and has a regular monthly column in the Santa Fe New Mexican. He is co-author of two water studies that have been widely published: Rainwater Harvesting Industry Market Size and Trends and First-Ever Long-Term Water Conservation Rebate Study. Doug is an EPA WaterSense Partner with Certification in Irrigation Auditing. He is an active member of the City of Santa Fe Water Conservation Committee. He is currently a member of the International Code Committee (ICC) working group that is drafting the ICC Rainwater Harvesting Building Codes. Doug is also a certified Permaculture Designer. Doug designs and consults on rainwater and water reuse systems locally and around the country. Doug and his partner, Gretchen, are active hikers, skiers, and volunteers in New Mexico.
Mario Nuño-Whelan: Mario grew up in Albuquerque and works as a landscape designer for MRWM Landscape Architects. Prior to earning a Master of Landscape Architecture from the University of Arizona in the spring of 2020, he worked on landscape crews for two years, conducting maintenance and installing residential landscapes for design-build companies in Albuquerque. He's passionate about stormwater harvesting and creating maintainable, high desert-appropriate landscapes that serve multiple functions.