The Water Smart Academy is for landscape professionals looking to broaden their understanding of landscape management and irrigation systems. The free classes offer the latest in landscape irrigation best management practices (BMPs) to assure healthy, sustainable, and functional landscapes while avoiding water waste. Read on for more information, class schedules, and a registration link.
Sponsored in part by

Landscape irrigation BMPs are based on the following considerations:
Design and installation should follow sustainable landscape guidelines.
Good horticultural practices and irrigation management are needed to sustain the efficient use of water and the overall health of the landscape.
A thorough maintenance program will extend the useful life of the irrigation system and the landscape.
Changes and modifications to the irrigation system will be necessary as the landscape matures.
The academy provides a comprehensive training program for many landscape career paths and backgrounds. Any landscape pro can benefit from participation and companies are encouraged to send all their employees for training in our virtual classrooms.
Classes offered online and continuing Education Units (CEU's) available for:
New Mexico Regulation and Licensing Department – JS6 Journeyman Lawnsprinkler License
Meet the Academy trainers:
Jim Corcoran: A New Mexico native with 40 years of grounds management experience at UNM, APS, Sandia Laboratories, and as a commercial landscape maintenance contractor, plus 28 years of experience in landscape and irrigation training. He holds a Bachelor of Science degree in plant science and holds an MS6 Irrigation License. He is a Certified Backflow Prevention Technician and 3A & 3B Pest Management Consultant. Previously certified by the Irrigation Association for Landscape Irrigation Water Audits, he is also past President of the New Mexico Irrigation Association.
Richard Perce: Richard has approximately 20 years of experience with design, installation and maintenance in the Albuquerque area in both large scale commercial and residential realms.  For seven years he oversaw maintenance and renovations at the Intel, Rio Rancho Campus, as well as installing and maintaining Mariposa and Loma Colorado.  Now as the Irrigation Efficiency Specialist for ABCWUA his focus is on Public Outreach with residential customers about properly maintaining and improving their irrigation systems for overall landscape health and resiliency (whether that's hose watering or adding the newest technology in Smart Controllers).  Richard feels that through this educational outreach he has the greatest chance of making a positive impact within our community.
Classes:
Entry-level Designer/Installer Pro Class
Target Audience: Designer and Installer Pros
4 credit hours: JS6 License
Trainer: Jim Corcoran
This class is divided into two sections and provides an update on current landscaping regulations, standards, and applicable codes as well as opportunities available to advance in your profession via different licenses, certifications, and degrees.  You will also learn fundamental sprinkler and drip irrigation design considerations and installation techniques; soil classification and basic soil properties; proper criteria to consider when designing turf, tree & shrub locations; the fundamentals of designing smart landscapes; and key elements of the Water Authority's water waste ordinance and how it applies to landscape designers and installers.
Entry-level Maintenance Pro Class
Target Audience: Maintenance Pro's
4 credit hours: JS6 License
Trainer: Jim Corcoran
This class is divided into two sections and provides an update on current landscaping regulations, standards, and applicable codes as well as opportunities to advance your profession via different licenses, certifications, and degrees.  You will also learn the key elements of the Water Authority's Water Waste Ordinance; how to avoid water waste and improve irrigation system efficiency; the concept of evapotranspiration; the basics of troubleshooting irrigation systems; soil classification and basic soil properties; identifying different plant species; using mulches to manage heat and soil moisture levels; and how, when, and where to apply fertilizers.
Jardinería Sostenible y Mantenimiento de Sistemas de Riego
Audiencia: Profesionales de mantenimiento (entry level: primary language Spanish)
2.5 créditos: JS6 License
Entrenador: Carlos Bustos
Jardineros profesionales serán educados en lo último en prácticas en jardinería (paisajismo/horticultura) y sistemas de riego. Los participantes recibirán capacitación en las mejores prácticas de mantenimiento y sistemas de riego eficientes. Esta clase provee información sobre el origen del agua en Albuquerque, incentivos disponibles para sus clientes e información sobre distintas certificaciones para avanzar en su profesión.
Schedule of Online Classes: RSVP Below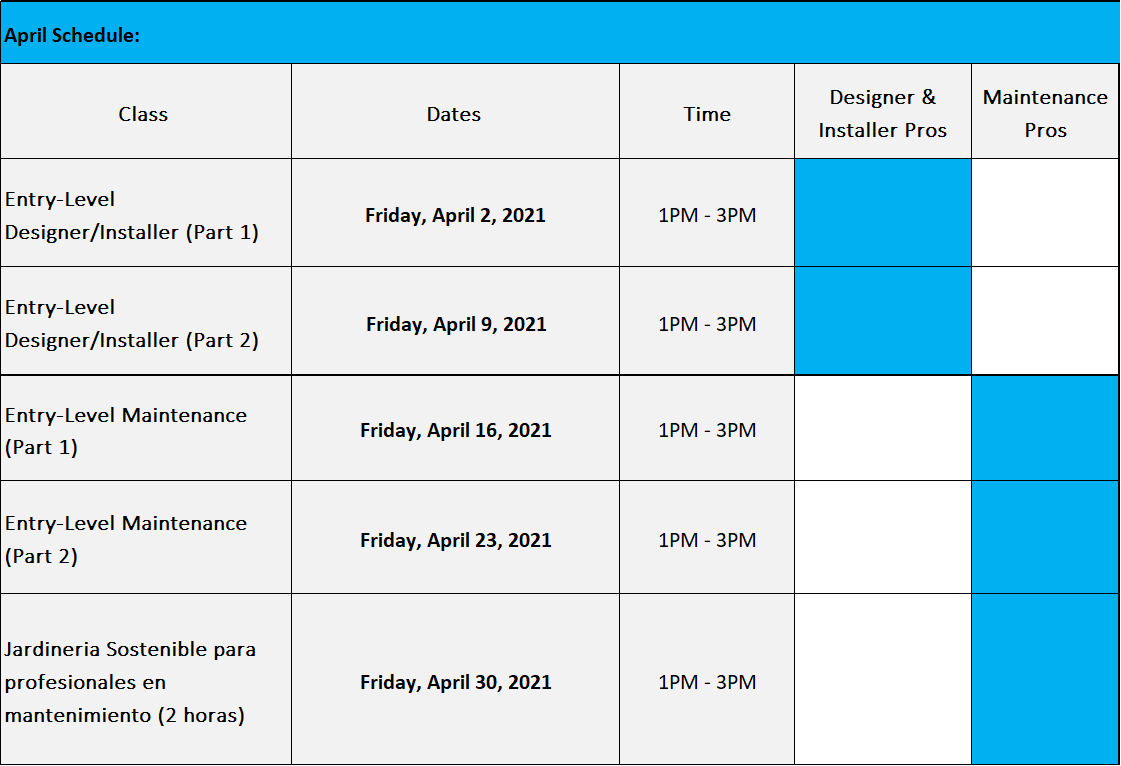 Register Here
https://tinyurl.com/watersmartacademy
For information about the Water Smart Academy contact Carlos A. Bustos, Water Conservation Program Manager at 505-933-1254 or cbustos@abcwua.org
Water Smart Contractor CERTIFICATION
Companies that complete an entry-level class, demonstrate that they are licensed and insured, and agree to follow water smart landscape irrigation principles can be certified as Water Smart Contractor. Water Smart Contractors will receive branding materials and be recognized for participating in the training courses provided by the Water Authority. The program assists customers with selecting qualified licensed contractors trained in the best water conservation practices. Approved Water Smart Contractors will be required to take a minimum of one mid-level and expert-level class per year to maintain designation.
Si está interesado en la designación como Contratista de Riego Inteligente "Water Smart Contractor" por favor comunicarse con Carlos A. Bustos al 505-933-1254 o cbustos@abcwua.org . Estas compañías recibirán materiales con nuestro logo y aparecerán en comunicados de la Autoridad del Agua.