Time-of-day exemptions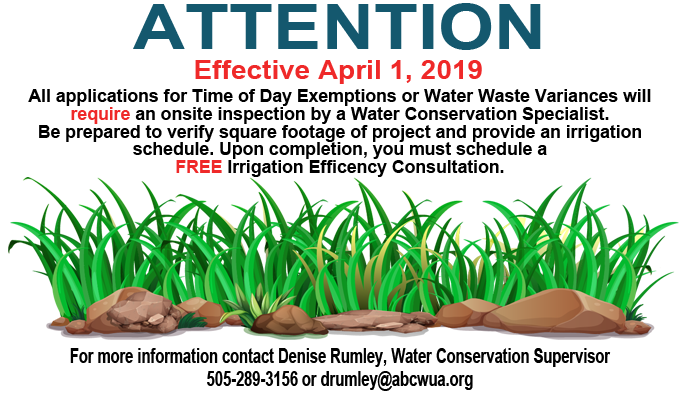 If you need to water during restricted times (i.e., between 11 a.m. and 7 p.m. from April 1-Oct. 31) due to any of the reasons listed here you may apply for an exemption. Apply online at the links below or 842-WATR (9287). Apply online using the appropriate Time-of-Day Exemption link below:
Water Waste variances allow customers to avoid being assessed additional water waste fines while they work to correct the problem during a specified period of time.
To request a variance application form, call 842-WATR (9287), or use the online application for a water waste variance.
ATTENTION: Effective April 1, 2019, ALL applications for Time of Day Exemptions or Water Waste Variances will require an on-site inspection by a Water Conservation Specialist. Be prepared to verify square footage of area and provide an irrigation schedule. During our busy season, we ask that you contact us 2 weeks prior to the start of your project in order to schedule your site visit.