Addressing the jet fuel leak at Kirtland Air Force Base
The Water Authority works in cooperation with the United States Air Force, the New Mexico Environment Department (NMED), and our partner agencies (City of Albuquerque and Bernalillo County) to monitor the decades-old jet fuel leak that has contaminated groundwater beneath Kirtland Air Force Base and nearby neighborhoods. The leak site is a source-water protection priority for the Water Authority because of its proximity to drinking water supply wells. Fortunately, no drinking water wells have yet been affected by the leak.
The Water Authority voluntarily monitors groundwater near the leak site for several contaminants, including ethylene dibromide (EDB). The utility and its contractors also conduct regular reviews of publicly available NMED and Air Force records to monitor any migration of contamination toward down-gradient supply wells.  This data is also used in developing conceptual models of the site by both the Water Authority and the Air Force. Such models integrate information on what contamination is present, where it can be found, and how it may (or may not) migrate through soil and water.
The fuel leak cleanup project is regulated by NMED under the federal Resource Conservation and Recovery Act (RCRA), which specifies a step-by-step Corrective Action Process for remediation of the spill by the Air Force (see graphic below).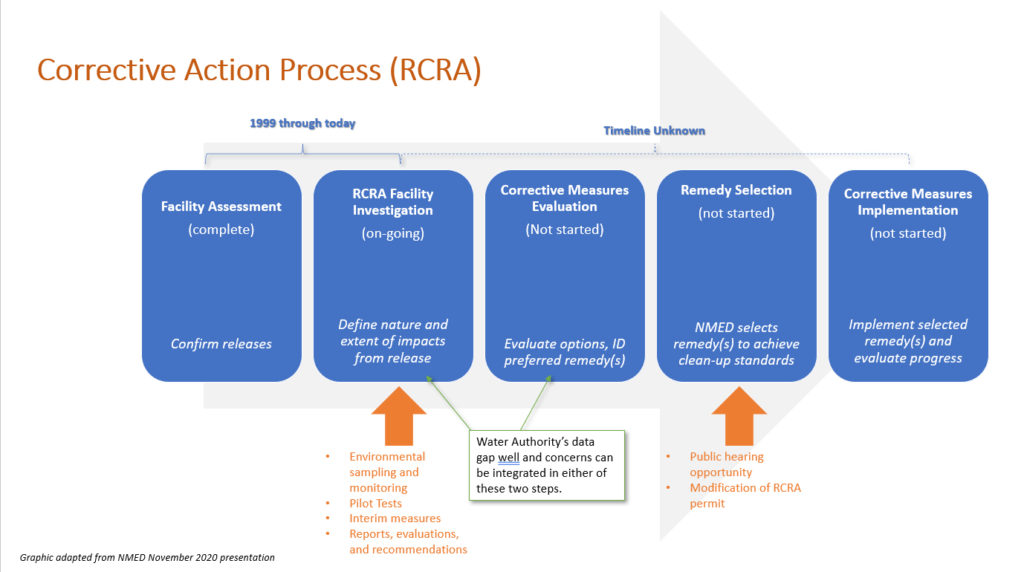 The Water Authority's Data Gap Groundwater Monitoring Well Project
Water Authority staff and contractor reviews of the Air Force's site characterization reports have identified a persistent data gap, or blind spot, regarding the extent of EDB migration toward Water Authority well fields to the north/northeast of the spill site (particularly at depth, well below the top of the water table).  Because the Air Force has declined to install a monitoring well capable of filling this data gap, the Water Authority sought and received State capital outlay funds to do so on its own. Once completed, this project will significantly increase the utility's ability to ensure the safety of nearby drinking water supply wells.
Project points of contact:
Diane Agnew, Environmental Manager: dagnew@abcwua.org  (505) 289-3004
Rachel Stone, Community Relations: rstone@abcwua.org  (505) 289-3071
Project planning documents:
(To be posted)
Project Schedule (as of Oct. 15, 2021; all dates subject to change):
Start of drilling:     Jan. 10, 2022
Well construction and development:     Jan. 24, 2022
Site restoration:     March 7, 2022
Well sampling:     Feb. 14-March 14, 2022 (results expected April 4); May 30-June 6, 2022 (results expected June 27)
Additional Resources
Both KAFB and the NMED maintain online administrative records for the BFF project where additional documents and letters can be found:
KAFB Bulk Fuels Facility Project Website
KAFB Online Administrative Record