OUR RETAIL COMPOST OPERATION IS OPEN TO THE PUBLIC!
Credit Card Payments Only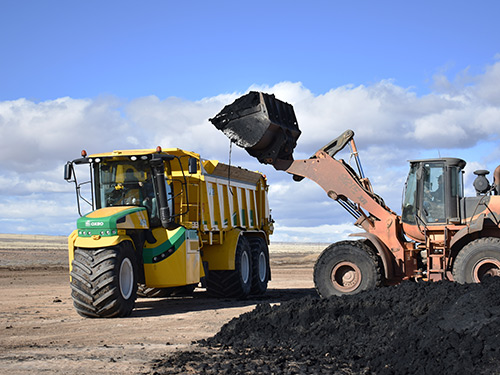 Plan Now for Planting Season!
Water Authority compost ("Compost Del Rio Grande") is rich in organic matter, nitrogen and trace minerals and may be used in the production of crops for human consumption. It is available to the general public for purchase (see price guide below). We can only accept credit card payments at this time.
Load/Unload Hours:
Monday-Friday, 7:15 am to 2:15 pm
Closed weekends and holidays

Please note: We load your open truck or trailer. No closed-box trucks accepted. Please bring a tarp to secure your load!
Office Phone:
505-289-3600
Location:
7400 Jim McDowell RD NW
Albuquerque, NM 87120
Directions:
Exit I-40 at Atrisco Vista and go north for 5 miles. Turn west (left) on Shooting Range Road and travel 2 miles to Shooting Range Access Road. Turn north (right) on Jim McDowell Road (look for the Rio Grande Compost sign) and drive another 2 miles to the facility. Park on the east side, near the office, and come inside.
Materials Pricing
Certified biosolids compost, typically comprising 25% animal stable bedding, 40% biosolids (sewage sludge) and 30% green waste (pulverized yard trimmings), and 5% woodchip by volume, is available for purchase at $25.00/ton for screened material. Any vendor who purchases 100 tons or more of compost in any month will receive a 5% discount on the compost purchase price for that month. For purposes of the discount, purchase totals shall not carry over from month to month.
Purchasing Process
Vendors must weigh each load of materials using the truck scale provided at the compost facility.
Vendors are solely responsible for transporting purchased materials from the compost facility (approximately 15 miles west of Albuquerque) to their point of storage or use.  All loads must be tarped.
Note: Vendors will no longer be invoiced. Payment is due at time of service. Credit card payments only; no cash, checks, or PIN-protected debit cards