OUR RETAIL COMPOST OPERATION IS TEMPORARILY CLOSED TO THE PUBLIC IN RESPONSE TO THE COVID-19 PUBLIC HEALTH EMERGENCY. Access to the facility is limited to employees only. Call 289-3600 if you need to speak with Soil Amendment Facility staff.
PLEASE NOTE: Beginning Feb. 4, 2019, payments for compost MUST be made by credit or debit card (Visa, MasterCard, Discover) at the time of pick-up. No cash or checks will be accepted and invoices will not be issued for later payment.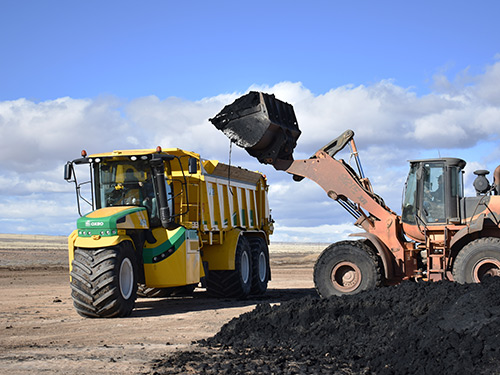 Water Authority compost ("Compost Del Rio Grande") is rich in organic matter, nitrogen and trace minerals and may be used in the production of crops for human consumption. It is available to the general public for purchase (see price guide below).
Load/Unload Hours:
Monday-Friday, 7:30 am to 2:30 pm
Closed on holidays
Please note: We load your open truck or trailer. No closed-box trucks accepted. Please bring a tarp to secure your load!
Office Phone:
505-289-3600
Location:
7400 Jim McDowell RD NW
Albuquerque, NM 87120
Directions:
Head West on I-40 past 98th Street to Atrisco Vista Blvd.
Travel five (5) miles North on Atrisco Vista Blvd., turn West on Shooting Range RD
Travel two (2) miles West on Shooting Range RD, to Shooting Range Access RD
Turn North on Jim McDowell RD (sign: Rio Grande Compost)
Travel two (2) miles North. You have arrived. Park on East side, near building.
Come into the office.
Materials Pricing
Certified biosolids compost, typically comprising 50% animal stable bedding, 30% biosolids (sewage sludge) and 20% green waste (pulverized yard trimmings), by volume, is available for purchase at $25.00/ton (~$10/yd3 at 2.5 yd3/ton) for screened material. Any vendor who purchases one hundred (100) tons or more of compost in any month will receive a five percent (5%) discount off the compost purchase price for that month.  Any vendor who purchases one hundred (100) tons or more of screening overs in any month will receive a five percent (5%) discount off the screening overs purchase price for that month.  For purposes of the discount, purchase totals shall not carry over from month to month.
Purchasing Process
Vendors must weigh each load of materials using the truck scale provided at the compost facility.
Vendors are solely responsible for transporting purchased materials from the compost facility (approximately 15 miles west of Albuquerque) to their point of storage or use.
Note: Vendors will no longer be invoiced. Payment is due at time of service. See notice above.
Agreement to Terms
As the below-named Authorized Agent, I agree to the terms and conditions described herein. I understand that the materials pricing quote herein supersedes all previous pricing quotes. The Water Authority bears no liability for losses incurred through the purchase or use of these materials.